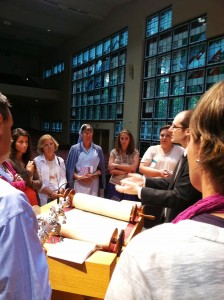 Bearing Witness™ provides Catholic school educators with training and resources to help their students understand the history of anti-Semitism, the Holocaust, and modern manifestations of prejudice.  Created in 1995 by the ADL's Washington, DC Regional Office, the Archdiocese of Washington, and the United States Holocaust Memorial Museum, and in cooperation with the United States Conference of Catholic Bishops, the National Cathedral Education Association, and Georgetown University, Bearing Witness is changing relations between Catholics and Jews.  Now a national program, Bearing Witness has trained more than 1,900 Catholic school educators, including 405 regionally, impacting over 300,000 students across the country.
The program is open to Catholic school teachers of history, religion, social studies, and English at the middle and high school level (6th-12th grade), as well as administrators and librarians. The program is funded through generous grants, so participant expenses are minimal. All participants are then eligible to apply for Bearing Witness™ Advanced, a free trip to Israel, to continue their learning.
View Schools Trained through Bearing Witness™ in the Washington, DC Region.
"Never have I experienced such an intellectually fulfilling and challenging program in my life. No tour to Europe, no college class, no conference, has ever filled my intellect, heart and soul as this Bearing Witness program has. Quite simply, I will never be the same after this program."
– Bearing Witness™ Participant