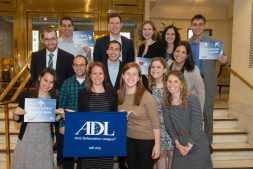 Glass Leadership Institute Overview
The Anti-Defamation League's (ADL) Glass Leadership Institute (GLI) is a nationally recognized leadership development program designed to give a select group of young professionals an up-close and personal view of the programs, policies, and expertise of the nation's premier civil rights organization.  The program serves as a comprehensive introduction to ADL and provides a pathway into an impressive circle of ADL young professional leaders in the Washington, DC region.
Founded in 1997 in Orange County, California as the Steinberg Leadership Institute, the program later was endowed by Sherwin and Shirley Glass of Atlanta, Georgia in honor and memory of their daughter, Shana, and renamed the Glass Leadership Institute.  Today, GLI is in 24 regions and has engaged over 3,700 individuals who have become knowledgeable about ADL's work, committed to ensuring the organization's vitality, and equipped to advocate effectively for ADL's mission– to stop the defamation of the Jewish people and secure justice and fair treatment to all.
The Program
The goal of the Glass Leadership Institute is to provide broad exposure to ADL's programs and resources and to create a cadre of young professionals who will take on regional and national leadership positions within the League.  GLI participants engage in ten months of dynamic, interactive evening sessions on a broad range of ADL topics.  GLI sessions take place at Metro-accessible locations in Washington, DC (October through June) from 6:30pm to 9:00pm.  A kosher-style dinner, with vegetarian options, is provided at each session.
Participants gain first-hand exposure to ADL's activities and issues including:
Monitoring, Tracking, and Combatting Hate Groups, Terrorism, and Extremism
Anti-Semitism: Local, Regional, National, and Global Incidents and How ADL Responds
Anti-Bias and Diversity Education
Policy Development and Legislative Initiatives
Law Enforcement Resources, Support, and Training
Security Awareness for Religious Institutions and the Community
Interfaith and Intergroup Affairs
Support for Israel
The high point of the GLI program is the annual National Leadership Summit in Washington, DC, where participants have the opportunity to hear from high-ranking officials, opinion leaders, and renowned experts, as well as meet with legislators on Capitol Hill to advocate on behalf of ADL.  The National Leadership Summit is attended by hundreds of GLI participants and ADL leaders from across the country.
ADL invests over $2,500 in each GLI participant to take part in the monthly sessions, the National Leadership Summit, and regional events.
Who are Glass Leadership Institute Participants?
Glass Leadership Institute participants are a specially selected group of individuals between the ages of 25-45 who are interested in learning about ADL's mission and activities.  GLI participants are chosen, through a competitive application process, based on their demonstrated leadership qualities as well as their interest in, and commitment to, social and political justice.
Graduates of the Washington, DC GLI program have gone on to serve in leadership roles within and outside of the organization.  From award-winning opinion leaders, entrepreneurs, and legal superstars to future Washington, DC Regional Board members, GLI continues to attract the region's best and brightest.
Glass Leadership Institute Expectations
Regular attendance at each monthly evening session during the GLI program year (October through June).  Monthly meetings serve as a vehicle to educate participants on the full range of issues and programming on the ADL agenda.
All participants are expected to attend ADL's National Leadership Summit, which will take place May 7-9, 2017 in Washington, DC.  The Summit convenes national and regional ADL leaders, GLI participants, and staff from ADL's regional offices for 3 days of workshops, meetings, and lobbying on Capitol Hill.  Participants are responsible for the registration fee to participate in the National Leadership Summit ($300 reduced rate for GLI participants in 2016).
All participants are expected to make a minimum contribution of $360 to ADL's Annual Campaign by December 31, 2016.
*** All other expenses, including dinner at each monthly session, program materials, and the residual cost of the National Leadership Summit (not covered by the reduced registration fee) are covered by generous funders.  Participants also are offered a complimentary ticket to ADL In Concert Against Hate, the Washington, DC Region's signature celebration, on Monday, November 14, 2016 at the Kennedy Center for the Performing Arts.
Opportunities for Further Engagement with ADL
In addition to these expectations, there are a variety of optional events throughout the year, including ADL NextGen Outreach Network events, and special insider briefings.  GLI participants will be notified of these events, and it is our hope that the GLI program will inspire its participants to take advantage of these additional opportunities.
If you have any questions about applying to the 2016-17 GLI program, or would like to nominate a young leader, please email Assistant Regional Director Heather Gillies (hgillies@adl.org).