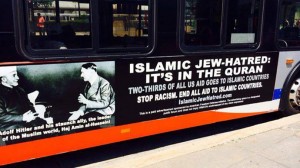 Washington, DC, May 21,2014…The Anti-Defamation League (ADL) today criticized an advertisement from an anti-Muslim group as "highly offensive and inflammatory," but said it is clearly protected political speech under the First Amendment.
The American Freedom Defense Initiative (AFDI), a group headed by the anti-Muslim activist Pamela Geller, recently placed advertisements on a number of Washington DC Metro buses that state, "Islamic Jew-hatred: It's in the Quran" and includes a 1941 photo of the Mufti of Jerusalem, Haj Amin el-Husseini, having a conversation with Adolf Hitler. The League has previously criticized AFDI as "consistently vilifying the Islamic faith under the guise of fighting radical Islam."
David C. Friedman, Washington, DC Regional Director released the following statement:
"The Anti-Defamation League deplores the use of this Hitler imagery and this message of intolerance. These ads are highly offensive and inflammatory.  Pro-Israel doesn't mean anti-Muslim.  And support for Israel cannot be built on bigoted anti-Muslim and anti-Arab stereotypes. At the same time, ADL consistently maintains that government censorship is not the right response to hate speech. The League supports the free speech guarantees embodied in the First Amendment of the United States Constitution, understanding that the best way to combat hateful speech is with more speech."
According to Geller, the AFDI ads were run in response to bus ads placed by American Muslims for Palestine (AMP) in April stating, "We're Sweating April 15 So Israelis Don't Have To! Stop US Aid to Israel's Occupation." AMP is an organization that has promoted extreme anti-Israel views aimed at demonizing and delegitimizing Israel.
"The search for peace in the Middle East is enormously complicated and nuanced." said Friedman. "It would be hard to think of two groups less qualified to lead a public debate on difficult issues of religion and extremism – especially in ads designed for the side of a bus."
The Anti-Defamation League, founded in 1913, is the world's leading organization fighting anti-Semitism through programs and services that counteract hatred, prejudice and bigotry.