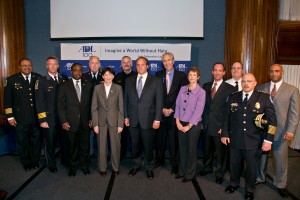 The Anti-Defamation League held its fourth annual presentation of the SHIELD Awards on September 23rd at the National Press Club in Washington, DC.  Created by ADL's Washington, DC Regional Office in 2010, the SHIELD Awards annually recognize law enforcement for significant contributions towards protecting the American people from hate crimes, extremism, and domestic and international terrorism. The SHIELD Awards are made possible through the generosity of the Jared O. Blum family.
The name of the award is an acronym for the core values of the profession: Service, Honor, Integrity, Excellence, Leadership, and Dedication. The ceremony has quickly become one of the premier events honoring law enforcement in the nation and one of ADL's most powerful and inspiring events. 
Award recipients were chosen by a Selection Committee of the top law enforcement officials from 22 major federal, state and local agencies and offices in the District of Columbia, Maryland, Virginia, and North Carolina.
The 2013 SHIELD Award recipients included:
 Members of the Federal Bureau of Investigation Washington Field Office Joint Terrorism Task Force and the United States Attorney's Office for the Eastern District of Virginia for the year-long investigation and subsequent prosecution of Amine El Khalifi, who attempted to bomb the U.S. Capitol building. On June 22, 2012, El Khalifi pled guilty to using a weapon of mass destruction in a terrorist operation and he was sentenced to 30 years in federal prison.
 

Leonardo Johnson and Members of the Federal Bureau of Investigation Washington Field Office's Joint Terrorism Task Force, Evidence Response Team, and Violent Crimes Task Force, the Metropolitan Police Department, and the United States Attorney's Office for the District of Columbia

 for their response to and investigation and prosecution of Floyd Lee Corkins, II, who on August 15, 2012, opened fire at the Family Research Council and shot Leonardo Johnson. On February 6, 2013, Corkins pled guilty to charges of committing an act of terrorism while armed, assault with intent to kill while armed, and interstate transportation of a firearm and ammunition, and he was subsequently sentenced to 25 years in prison. 
 Special Agents Mia Winkley and Kevin Comiskey of the Federal Bureau of Investigation's Baltimore Field Office and United States Department of Justice Trial Attorney AeJean Cha for the investigation into and prosecution of individuals responsible for hanging a dead raccoon by a noose on the porch of a black family in Maryland.  They identified five suspects, all of who plead guilty to civil rights charges for their involvement in the conspiracy to commit a hate crime.
Members of the Drug Enforcement Administration's Special Operations Division, Foreign-deployed Advisory and Support Team, and Kabul Country Office, and the United States Department of Justice Criminal Division, Narcotic and Dangerous Drug Section for the investigation and prosecution of Haji Bagcho, one of the world's most prolific drug traffickers whose proceeds helped fund the Taliban.  On June 12, 2012, Bagcho was sentenced to three terms of life imprisonment and ordered to forfeit more than $250,000,000 in drug proceeds and his property in Afghanistan.
One of the highlights of the ceremony was hearing from Leonardo Johnson, who was shot by Corkins as he wrestled the gun away from him, preventing him from killing or injuring anyone else.  The ceremony also included remarks by: Valerie Parlave, Assistant Director in Charge of the Federal Bureau of Investigation's Washington Field Office; Ron Machen, U.S. Attorney for the District of Columbia; Michele Leonhart, Administrator for the Drug Enforcement Administration; and Mythili Raman, Acting Assistant Attorney General for U.S. Department of Justice's Criminal Division.
A reception hosted by the Washington, DC Regional Board followed the ceremony.